A
A
American Civil Liberties Union handbook
Rights of Prisoners: The Basic ACLU Guise to a Prisoner's Rights, The
1 Available
American Prisons: A History of Good Intentions
1 Available
Andrea del Sarto: The Renaissance Workshop in Action
1 Available
Are Prisons Obsolete?
1 Available
Artworks for Elementary Teachers: Developing Artistic and Perceptual Awareness
1 Available
Asylums: Essays on the Social Situation of Mental Patients and Other Inmates
1 Available
B
B
Breaking the Chains: Student Writings
1 Available
C
C
California Council on Criminal Justice: State Task Force on Youth Gang Violence
1 Available
California's Gold Collection
Preston School of Industry : a centennial history 2nd Edition, The
1 Available
Changin' Your Game Plan! How to use incarceration as a stepping stone for success
1 Available
Chicano Art: Resistance and Affirmation, 1965-1985
2 Available
Children of Incarcerated Parents: A Bill of Rights
1 Available
Conned: How Millions Went to Prison, Lost the Vote, And Helped Send George W. Bush to the White House
1 Available
Contemporary Issues in Art Education
1 Available
Coombe Lodge report: Planning and Delegation in Further Eduation
1 Available
Correctional Education
1 Available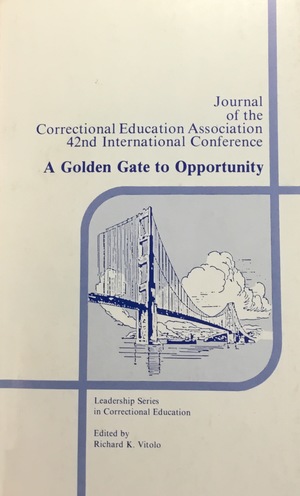 Correctional Education Association 42nd International Confernece: A Golden Gate to Opportunity, The
1 Available
Correctional Education Chronology
2 Available
Correctional Education History from A to Z
1 Available
Council of Europe: achievements and activities , The
1 Available
C-unit: Search for Community in Prison
1 Available
D
D
Dancing to the Concertina's Tune: A Prison Teacher's Memoir
1 Available
Dictionary of Desperation : An anthology of expressions used by prisoners to describe the quality and events of their daily lives
1 Available
Dreams Behind Bars: An Anthology of Poems and Stories from the "Writing Our Stories" Project, Adele Goodwyn McNeel School, Birmingham, Alabama
1 Available
E
E
Education: A Weapon Against Crime, A Forum on Prisoner Education
1 Available
Education in Establishments for Women and Girls: Policy Statement 5
1 Available
Education in Prisons: Policy Statement 1
1 Available
Education of Adult Prisoners: A Survey and a Program, The
1 Available
Education or the Violence of Justice
1 Available
Educational Change in Correctional Institutions: An Integral Approach
3 Available
Eight Habits of the Heart: Embracing the Values that Build Strong Families and Communities (African American History (Penguin))
1 Available
Encyclopedia of Juvenile Justice
1 Available
F
F
Fifty Years of Prison Service
1 Available
For the Term of His Natural Life
1 Available
From Abacus to Zeus: A Handbook of Art History, 6th ed.
1 Available
From Prison to Prosperity
1 Available